Analysis Services is a combination of two analytical engines (VertiPaq for multidimensional cubes and Data Mining and xVelocity for Tabular Data Models) used in decision support and business analytics. It provides enterprise-grade semantic data model capabilities for business intelligence (BI), data analysis, and reporting applications such as Power BI, Excel, Reporting Services, and other data visualization tools.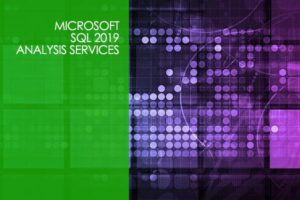 This course provides a full introduction to the use of both of these engines in an enterprise environment. The third major component of the course is a form of Machine Learning called Data Mining.  Data Mining is the analysis of large data set to reveal hidden patterns and trends. This course will teach you how to create a Data Mining solution, how to compare and validate different data mining options (models) for a given data set, and how to use your chosen model in a consumer-friendly client.
Module 1: Introduction to Business Intelligence and Data Modeling
1.1 Course Introduction
1.2 Module 1 Introduction
1.3 Introduction to Business Intelligence
1.4 The Microsoft Business Intelligence Platform
1.5 Exploring a Data Warehouse
1.6 Exploring a Data Model
Module 2: Multidimensional Databases
2.1 Module 2 Introduction
2.2 Introduction to Multidimensional Analysis
2.3 Overview of Cube Security
2.4 Creating and Configuring a Cube
2.5 Data Sources
2.6 Data Source Views
2.7 Adding a Dimension to a Cube
Module 3: Cubes and Dimensions
3.1 Module 3 Introduction
3.2 Dimensions
3.3 Attribute Hierarchies and Relationships
3.4 Sorting and Grouping Attributes
3.5 Slowly Changing Dimensions
Module 4: Measures and Measure Groups
4.1 Module 4 Introduction
4.2 Measures
4.3 Measure Groups and Relationships
4.4 Measure Group Storage
Module 5: Introduction to MDX
5.1 Module 5 Introduction
5.2 MDX Fundamentals
5.3 Adding Calculations to a Cube
5.4 Querying a cube using MDX
Module 6: Customizing Cube Functionality
6.1 Module 6 Introduction
6.2 Key Performance Indicators
6.3 Actions
6.4 Perspectives
6.5 Translations
Module 7:  Tabular Data Models
7.1 Module 7 Introduction
7.2 Introduction to Tabular Data Models
7.3 Creating a Tabular Data Model
7.4 Configure Relationships and Attributes
7.5 Configuring Data Model for an Enterprise BI Solution
Module 8: Data Analysis Expressions (DAX)
8.1 Module 8 Introduction
8.2 DAX Fundamentals
8.3 Calculated Columns
8.4 Relationships
8.5 Measures
8.6 Time Intelligence
8.7 KPI
8.8 Parent – Child Hierarchies
Module 9: Data Mining
9.1 Module 9 Introduction
9.2 Overview of Data Mining
9.3 Custom Data Mining Solutions
9.4 Validating a Data Mining Model
9.5 Consuming a Data Mining Model
9.6 Course Wrap Up
Test yourself! Our academic experts have created quiz systems to ensure that you know what you know about your subject. Review quizzes will not only enhance your learning process but will also give you a perspective on the content.
The quizzes are characterized by our system of three distinct phases.
Pre-test: For you to know about your previous knowledge. It will allow us to give you a quiz based on what you already know. Thus, saving time, energy, and hassle.
Post-test: Just the way it is done in all academic systems. This sort of exam will test you based on what you were able to gain throughout the training session.
Final Test: Just like the way it is, your knowledge finally gets tested through a designed preparatory question.
Read it just right. When we say our training process is nothing but fun, this is what we mean. Edutainment has always been our way. Who could say that learning can not be fun? While for some IT training might be a source of fun, for others it might be boredom. That's where our brain teaser games jump in. Get your hands on interesting learn-from-games like:
Flashcards: Remember the "read and guess" games we used to play back then? Here's to enhance what you learned. How does it work? A statement will be written on a flashcard, and you'll need to guess the answer. Then flip it over to see if you answered it correctly. The cards continue, each with a random statement from the course that you took previously.
Scatter: "Make Everything Disappear." Turn the screen white and vanish it all but this time testing your knowledge and your time being monitored. Find the best match and click your way toward success. This brain teaser might give you a hard time! But education combined with games adds an element of fun to it.
Learn: Here's another. Read and choose the right answer. A game designed on a Multiple-Choice pattern. This kind of exercise boosts your confidence. When one option seems to be correct, you choose the other only for it to be the right option. The right option will welcome another statement, but don't sweat! You are still learning.
Speller: This fun-packed game is unique in its own way. Hear the term carefully and type it out on your screen. You think you are a pro at learning spellings of tricky terms. Test yourself out with this game. Could you hear it properly? If you could, were you able to write it?
And who doesn't need the reward? After you have finally gained the maximum from all modules designed; own a "Recognition Certificate" to validate what you learned. The notable feature of this recognition certificate is your ability to literally flaunt your skills. Be it your professional social media handle or your first step toward your career choice (interview); just attach the certification and boom! You just became a pro at your skill.
We have found our students doing absolutely great by showcasing their certificates. Grab that certificate of yours before someone else does and get that recognition you deserve.
You best learn when you see it. Our easy-to-understand video content is in place for you. Watch the studying content and grasp all the concepts easily. With so many lectures and 3000+ hours of video content, find what suits your needs. These educational videos are designed to sharpen your experience with your training content. Our easy-to-understand video content is in place for you. Watch the studying content and grasp all the concepts easily.
In contrast to other e-learning services, our labs will let you exercise what you analyze in a real environment with a lot to choose from. This layout mirrors the traditional study room format which ensures you will recognize exactly the way to set up, manage and troubleshoot any environment.
Being a successful IT professional involves more than knowing key terms and concepts. You need to be able to "apply" your knowledge to real-world situations. At EZDA we quote, "Learn it to pertain to it." So, why spend money buying the equipment when we got you all covered?
This package includes pdf workbooks, course outlines, course overview, and workbook. One of the most important features of our eBooks is their easy content. You don't need to worry about a critical term. Meaning no matter what level of difficulty your IT training is, you will never have to decode it. We will have it done for you.