If you're searching for a globally-recognized and respected certification to direct projects around the world, then look no further than the Project Management Professional (PMP®) program. This industry-approved training is the most sought after in its field and continues to remain a top priority for many businesses worldwide.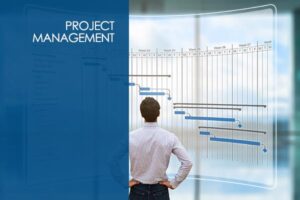 The Project Management Professional (PMP®) is the most important industry-recognized certification for Project Managers. It is a globally-recognized Project Management training certification, with PMPs sought after to lead projects in many countries in the world. The PMP® is not profession-specific, so you can work in virtually any industry, with any methodology, in nearly any location. This course properly reflects the changes made to the PMBOK® 6th edition examination as of January 2, 2021.
Module 1: Preparing for and Taking the Exam
Preparing to Take the Exam and Instructor Introduction
Getting Certified to take the Examination
Examination Characteristics
Test Taking Tips and Techniques
Question Formats
Post Certification Requirements
Module 3: People Domain
People Domain and Project Communications Management Knowledge Area Defined
Plan Communications Management
Manage and Monitor Communications
Agile Communications
Communications Key Points to Remember
Communications Example Question Review
Project Stakeholder Management Knowledge Area Defined
Stakeholder Position Descriptions
Identify Stakeholders
Plan Stakeholder Engagement and Manage Stakeholder Engagement
Monitor Stakeholder Engagement and Agile Stakeholder Engagement Techniques
Stakeholder Management Key Points to Remember
Stakeholder Management Example Question Review
Resource Management Knowledge Area Defined
Plan Resource Management and Estimate Activity Resources
Acquire Resources and Develop Team
Manage Team
Control Resources and Agile Teaming Concepts
Other Agile Teaming Concepts
Agile Team Roles and Troubleshooting Agile team issues
Resources Key Points to Remember
Resources Example Question Review
Module 2: Process Domain
Process Domain and Framework defined
Predictive, Iterative, Incremental and Adaptive Project Life Cycles
Framework Definitions
Project Manager Skills
Framework Key Points to Remember
Framework Example Questions Review
Project Integration Management Knowledge Area Defined
Knowledge Area Process Mapping and Definitions
Develop Project Charter and Develop Project Management Plan
Direct and Manage Project Work, Manage Project Knowledge, and Monitor and Control Project Work
Perform Integrated Change Control
Close Project or Phase
Integration Key Points to Remember
Integration Example Questions Review
Project Scope Management Knowledge Area Defined
Plan Scope Management and Collect Requirements
Nominal Group Technique (Delphi-Opinion Technique)
Define Scope and Create WBS
Breakdown Structures used in WBS Dictionary
Validate Scope and Control Scope
Defining Requirements in Agile
Prioritizing requirements in Agile, Definition of Done and Rolling Wave Planning
Scope Key Points to Remember
Scope Example Questions Review
Project Schedule Management Knowledge Area Defined
Plan Schedule Management, Define Activities, and Sequence Activities
Dependencies, Predecessors, Leads, and Lags
Estimate Activity Durations
Develop Schedule
Critical Path Method
Schedule Compression
Resource Leveling, Schedule Format, and Control Schedule
Agile Estimating
Agile Schedule Planning and Reporting
Schedule Key Points to Remember and Example Question review
Project Cost Management Knowledge Area Defined
Plan Cost Management and Estimate Cost
Types of Cost, Expected Present Value, Sunk Costs, and Depreciation
Life Cycle Costing, Status Reporting, and Determine Budget
Control Costs, and Earned Value Management
Earned Schedule, and Agile Cost Control
Cost Key Points to Remember
Cost Example Questions Review
Project Quality Management Knowledge Area Defined
Plan Quality Management
Manage Quality
Control Quality
Continuous Improvement in Agile-Adaptive Life Cycles – Kaizen and Process Analysis
Continuous Improvement in Agile-Adaptive Life Cycles – Retrospectives
Quality Key Points to Remember
Quality Example Questions Review
Project Risk Management Knowledge Area Defined
Risk Management Plan and Identify Risks
Risk Register and Issues Vs Risk
Perform Qualitative and Quantitative Risk Analysis
Plan Risk Responses
Implement Risk Responses and Monitor Risks
Agile Risk Tools and Risk Key Points to Remember
Risk Example Questions Review
Project Procurement Management Knowledge Area Defined
Plan Procurement Management and Conduct Procurements
Contracts
Share and Point of Total Assumption
Procurement Documents
Non-Competitive Awards and Control Procurements
Agile Contracts
Procurement Key Points to Remember and Example Questions Review
Module 4: Business Environment Domain
Business Environment Domain Defined
Project Selection Tools
PMO, Organizational Structure, and Reports
Agile in the Business Environment
Business Environment Key Points to Remember and Example Question Review
Course Closing
Test yourself! Our academic experts have created quiz systems to ensure that you know what you know about your subject. Review quizzes will not only enhance your learning process but will also give you a perspective on the content.
The quizzes are characterized by our system of three distinct phases.
Pre-test: For you to know about your previous knowledge. It will allow us to give you a quiz based on what you already know. Thus, saving time, energy, and hassle.
Post-test: Just the way it is done in all academic systems. This sort of exam will test you based on what you were able to gain throughout the training session.
Final Test: Just like the way it is, your knowledge finally gets tested through a designed preparatory question.
Read it just right. When we say our training process is nothing but fun, this is what we mean. Edutainment has always been our way. Who could say that learning can not be fun? While for some IT training might be a source of fun, for others it might be boredom. That's where our brain teaser games jump in. Get your hands on interesting learn-from-games like:
Flashcards: Remember the "read and guess" games we used to play back then? Here's to enhance what you learned. How does it work? A statement will be written on a flashcard, and you'll need to guess the answer. Then flip it over to see if you answered it correctly. The cards continue, each with a random statement from the course that you took previously.
Scatter: "Make Everything Disappear." Turn the screen white and vanish it all but this time testing your knowledge and your time being monitored. Find the best match and click your way toward success. This brain teaser might give you a hard time! But education combined with games adds an element of fun to it.
Learn: Here's another. Read and choose the right answer. A game designed on a Multiple-Choice pattern. This kind of exercise boosts your confidence. When one option seems to be correct, you choose the other only for it to be the right option. The right option will welcome another statement, but don't sweat! You are still learning.
Speller: This fun-packed game is unique in its own way. Hear the term carefully and type it out on your screen. You think you are a pro at learning spellings of tricky terms. Test yourself out with this game. Could you hear it properly? If you could, were you able to write it?
And who doesn't need the reward? After you have finally gained the maximum from all modules designed; own a "Recognition Certificate" to validate what you learned. The notable feature of this recognition certificate is your ability to literally flaunt your skills. Be it your professional social media handle or your first step toward your career choice (interview); just attach the certification and boom! You just became a pro at your skill.
We have found our students doing absolutely great by showcasing their certificates. Grab that certificate of yours before someone else does and get that recognition you deserve.
You best learn when you see it. Our easy-to-understand video content is in place for you. Watch the studying content and grasp all the concepts easily. With so many lectures and 3000+ hours of video content, find what suits your needs. These educational videos are designed to sharpen your experience with your training content. Our easy-to-understand video content is in place for you. Watch the studying content and grasp all the concepts easily.
In contrast to other e-learning services, our labs will let you exercise what you analyze in a real environment with a lot to choose from. This layout mirrors the traditional study room format which ensures you will recognize exactly the way to set up, manage and troubleshoot any environment.
Being a successful IT professional involves more than knowing key terms and concepts. You need to be able to "apply" your knowledge to real-world situations. At EZDA we quote, "Learn it to pertain to it." So, why spend money buying the equipment when we got you all covered?
This package includes pdf workbooks, course outlines, course overview, and workbook. One of the most important features of our eBooks is their easy content. You don't need to worry about a critical term. Meaning no matter what level of difficulty your IT training is, you will never have to decode it. We will have it done for you.